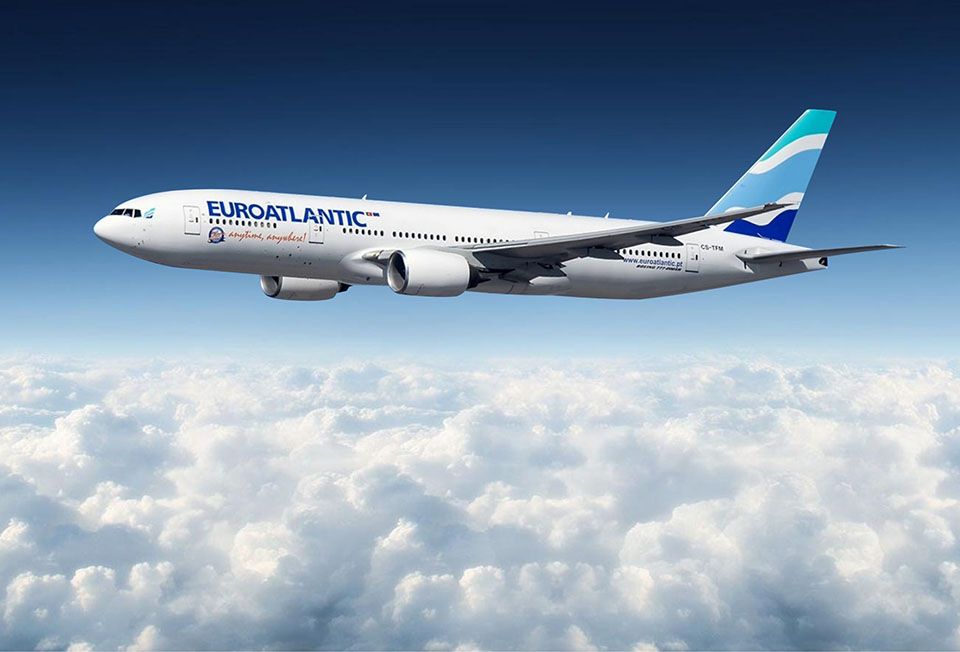 A brief history of EuroAtlantic Airways in Portugal
Celebrating its 25th anniversary in 2022, EuroAtlantic Airways has carved out a niche for itself, offering additional capacity on an ad-hoc basis to airlines around the world, traditional charter operations, as well as a single scheduled route alongside. Let's take a closer look at the carrier, its history and its operations.
Who is EuroAtlantic Airways?
EuroAtlantic Airways (IATA YU / ICAO MMZ) or EuroAtlantic Airways – Transportes Aéreos SA to give the company its full title, was originally established in 1993. Originally named Air Zarco, the company was founded by Portuguese businessman Tomaz Metello, who owned the airline until in 2019.
The airline was then sold to a Luxembourg-based investment group called I-JetAviation PT, led by German-Lebanese pilot and businessman Abed El-Jaouni.
Based at Lisbon Humberto Delgado International Airport (LIS), the company's main activity is to provide capacity solutions to other airlines. It provides charter services, wet leases and ad hoc flights around the world, both under contract with other carriers and for its own needs.
Additionally, EuroAtlantic Airways operates regular weekly flights connecting Lisbon with São Tomé and Príncipe and Guinea Bissau. The airline owns 38% of São Tomé and Príncipe's national airline, STP Airways.
The Boeing 767-300 has formed the backbone of the EuroAtlantic fleet over the years. Photo: EuroAtlantic Airways
A brief timeline of the airline
EuroAtlantic's first flight operated in 1997 from Lison to Luanda, flown by the airline's only aircraft at the time; a single Lockheed L1011-500 TriStar registered CS-TEB, which was purchased from TAP Portugal. The initial objective of the airline was to operate aircrfat on behalf of other airlines under wet lease agreements.
After dropping its original name in favor of Air Madeira at the start of operations, the airline found its niche and quickly flourished. The TriStar was soon joined by a Boeing 757-200 to meet demand for short and medium-haul charters to carry Portuguese tourists to destinations in Cuba, the Dominican Republic, Spain and Greece.
In 2000, due to continuing bureaucratic problems with the airline's name and its lack of appeal in the international charter market, the decision was made to rename the carrier again. In May 2000, the name EuroAtlantic Airways was adopted, which remains the airline's title to this day.
Over the years, EuroAtlantic Airways has established several other milestones with its operations. In 1997, it began chartering planes from airlines in several Muslim countries such as Bangladesh, Nigeria, India, Indonesia and Malaysia, to fly religious pilgrims to Mecca on the annual Hajj pilgrimage. Hajj.
These operations have been so successful that EuroAtlantic continues to hold a permanent license from the Saudi authorities to carry passengers on such operations.
In March 1998, the airline was chosen to operate on behalf of the President of Portugal, President Jorge Sampaio, to Macau. This was the first of many flights the airline has operated for the Portuguese government throughout its history.
In May 2001, the airline received its first Boeing 737-300 and subsequently purchased a second airframe to meet growing demand in Europe for short-haul wet lease capacity. From the same year, EuroAtlantic was chosen to supply the aircraft and support operations for a series of aerial cruises around the world for the company TMR. These flights all started and ended in Paris, each lasting between 15 and 80 days.
The airline originally operated the 737-300, but has since upgraded this 737-800 for short-haul operations. Photo: EuroAtlantic Airways
In 2003, EuroAtlantic negotiated the shared use of two Boeing 767-300ERs with the now defunct Brazilian carrier Varig. This coincided with the airline's plan to acquire four similar aircraft the following year, and in July 2004 EuroAtlantic became the first Portuguese airline to operate the Boeing 767-300ER.
In 2005, the company continued its steady expansion by leasing three more Boeing 767-300ERs along with a pair of additional Boeing 757-200s. Once again, the airline became a pioneer in introducing various Boeing models to Portugal in 2009 when the airline's first Boeing 777-200ER was acquired to perform medium to long-haul flights.
Of particular note is that EuroAtlantic was the operator of the last Lockheed TriStar passenger service in Europe. The type was eventually retired from service with the airline in March 2010.
Jetphotos.com via Wikimedia Commons"' data-modal-id="single-image-modal" data-modal-container-id="single-image-modal-container" data-img-caption='""'>
New owners bring new ambition
On November 15, 2019, EuroAtlantic Airways was acquired by I-Jet Aviation PT, a consortium formed by businessman Abed El-Jaouni and investment company Njord Partners. This was the latest in a series of recent strategic growth moves the company has taken to meet growing demand for ACMI (aircraft, crew, maintenance and insurance) and charters.
The new chairman of the board, Abed El Jaouni, had ambitious plans for the company and provided the airline with all the financial and operational support it needed to realize these plans. Upon takeover, EuroAtlantic Airways founder Tomaz Metello remained a non-executive member of I-Jet Aviation PT's board.
Abed El-Jaouni is a well-known entrepreneur in the aviation industry. He has founded several companies in the aviation industry and he has a team of experienced people in various technical, financial and management roles from companies such as Atlas Air, Lufthansa, VistaJet, GE, Bombardier and Mesa Air Lines . Njord Partners is a flexible, long-term capital provider for mid-market companies in Western Europe.
arpingstone via Wikimedia Commons"' data-modal-id="single-image-modal" data-modal-container-id="single-image-modal-container" data-img-caption='""'>
The airline today
Today, EuroAtlantic Airways continues to operate global charter services as well as ACMI and other wet lease operations, primarily on behalf of other airlines. To sum up the carrier's philosophy and its ability to offer turnkey, often short-term operational solutions, the company's slogan is "Anytime anywhere!'.
Since February 2021, EuroAtlantic Airways has been operating a single scheduled service between Lisbon and Osvaldo Viera International Airport in Bissau, the capital of Guinea Bissau, a former Portuguese colony located in West Africa. This unique route was inaugurated after TAP Portugal ceased operations on the route due to network cuts.
EuroAtlantic's fleet operates a wide range of missions. Photo: EuroAtlantic Airways
Fleet details
EuroAtlantic has operated a wide range of aircraft in its history, all aircraft produced by Boeing except its sole Lockheed Tristar CS-TEB, which retired in 2010. The airline operated the Boeing 737-300 , 757-200 and a single 767-300ER freighter from 2010 to 2017.
The airline was expected to operate a single Boeing 787-8 at short notice in 2021, but this option was never taken up by the airline due to the global COVID-19 pandemic.
According to ch-aviation, EuroAtlantic Airways' current fleet consists of seven aircraft with an average age of 21.5 years. However, the airline expects the delivery of two ex-Alitalia Boeing 777-200ERs later in 2022. The current fleet breakdown is as follows –
1 Boeing 737-800
5 Boeing 767-300ERs
1 Boeing 777-200ER
The carrier is looking to expand its fleet of 777-200ERs. Photo: EuroAtlantic Airways
Source: ch-aviation, EuroAtlantic Airways