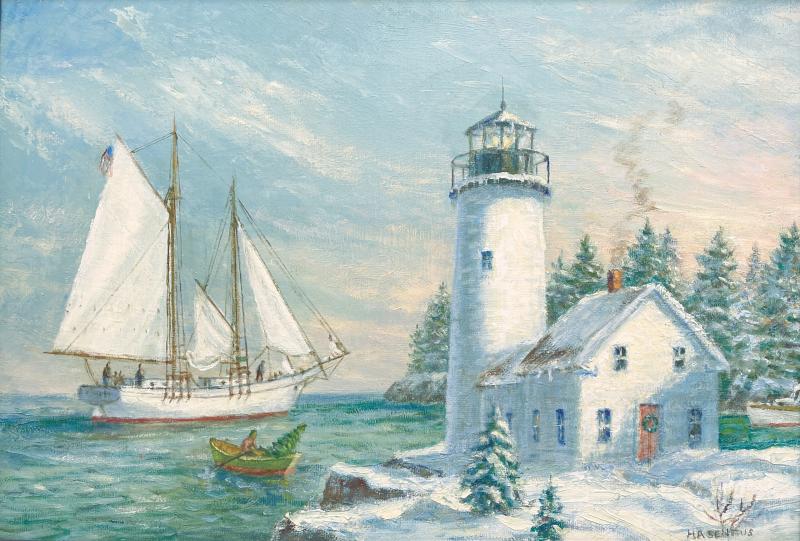 Artwork by late Maine artist Richard Hasenfus featured on Pine Tree Society 2021 greeting cards
This year, the Pine Tree Society brought back one of their most popular greeting cards, featuring "Schooner in the Harbor" by Maine artist Richard Hasenfus. His first greeting card design for the Pine Tree Society dates back to 1969. This painting, "Peaceful Harbor," still proudly hangs on the walls of the Pine Tree Society today as a symbol of this fundraiser's long tradition. annual.
Hasenfus, who passed away in 2019, will be remembered for his art and the unique way he captured the rocky coast of Maine. A longtime Georgetown resident, Hasenfus was born in Boston in 1932. He was an award-winning painter whose works are in numerous private, corporate and museum collections in the United States and Europe. Throughout his life he traveled extensively and painted the Azores, North Africa, Spain, Italy, France, Bahamas, West Indies, Bermuda, California and Arizona.
He always came back to capturing ocean-themed imagery of the Pine State, and his "Schooner in the Harbor" greeting card painting showcases Maine's beloved rocky coastline and the rugged nature of the people of Maine. Maine. In this iconic painting, the cold, wind and waves won't stop the lone sailor from delivering a Christmas tree to the lighthouse keepers on this coastal island.
Hasenfus studied art at the Massachusetts College of Art, the Museum of Fine Art in Boston, and the Academy of Fine Arts in Florence, Italy. He owned a gallery in Wiscasset for decades, as well as one in Boothbay Harbor, before retiring to Georgetown.
One hundred percent of proceeds from annual greeting card sales support Pine Tree Society programs. The cards come in two sizes, foldable and postcard, and each purchase has a very important purpose: to help people with disabilities in Maine lead richer, more socially connected lives.
Greeting cards can be ordered online at www.pinetreesociety.org or by calling 207-386-5912.
Pine Tree Society helps people with disabilities in Maine lead richer, more socially connected lives. Too often people with disabilities feel excluded or even isolated. With the help of Pine Tree Society, they are not alone. We share a spirit of innovation and a desire to discover new ways to break down barriers that many find overwhelming. It started as a bold new idea in 1936 and it continues every day.