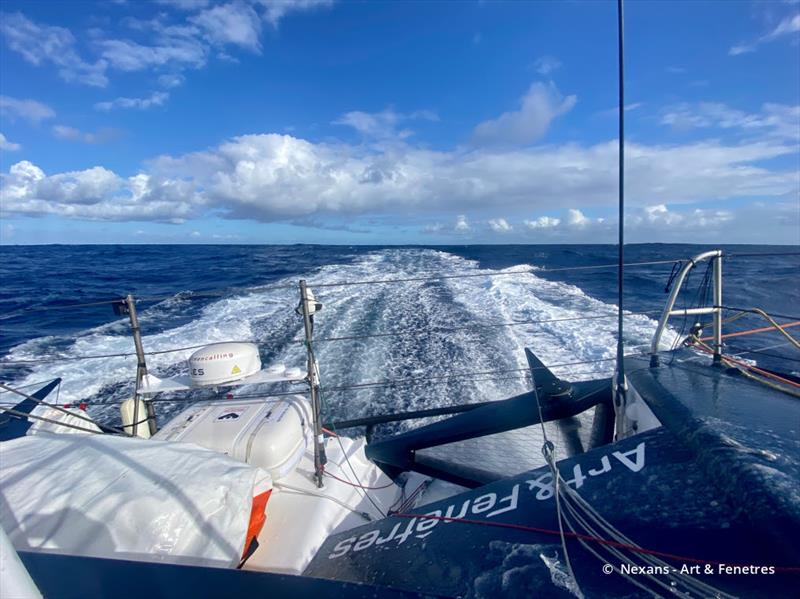 Bad weather on the way to the Doldrums for the IMOCA fleet on the Transat Jacques Vabre
Bad weather on the way to the Doldrums for the IMOCA fleet on the Transat Jacques Vabre
by Ed Gorman / IMOCA Nov 16 09:51 PM UTC
November 16, 2021
View of Nexans-Art and Windows on the Transat Jacques Vabre © Fabrice Amedeo / Loïs Berrehar
After nine days of the 15th edition of the Transat Jacques Vabre, the leading boats of the IMOCA Class are heading west under the Cape Verde Islands with an air of duckweed now familiar to this transatlantic marathon.
The leaders are Thomas Rettant and Morgan Lagravière on LinkedOut who are fighting with Charlie Dalin and Paul Meilhat on APIVIA and Jérémie Beyou and Christopher Pratt on Charal at the head of the fleet.
With a little over 3,300 miles to go until the finish at Fort de France in Martinique, Rettant and Lagravière are 24 miles ahead of APIVIA in second position and Charal two miles further in third position.
There is then nearly 60 miles gap with Initiatives-Cœur in fourth position with 11th Hour Racing Team-Malama and ARKEA PAPREC less than four miles behind in fifth and sixth positions respectively. The late 20-person fleet, EBAC (Antoine Cornic and Jean-Charles Luro), is about 760 miles north of LinkedOut.
The leading crews are sailing downwind in light conditions under sunny skies but with a far from simple weather picture. After staying far to the east along the Mauritanian and Senegalese coasts, to benefit from the best wind conditions, they must now head west to line up for their crossing of the Doldrums.
But the infamous Doldrums promises to be threatening as it expands and contracts to the south, with the possibility that the fleet will compress in the coming days, allowing more indented boats, led by Prysmian Group (Giancarlo Pedote et Martin Le Pape) – 273 miles behind the leader – to catch up.
On 11th Hour Racing Team-Malama, co-skipper Charlie Enright relishes the tight regattas from boat to boat in the East Atlantic and has a decidedly positive view of the Doldrums as the squall and calm zone draws closer. in addition. "We're pretty hungry and competitive people and the mantra has been just to get there – get there, get there… and now is keep it close, keep it close, keep it close," he said. says, "and the Doldrums are a whole world of opportunity," he added.
In front of them, Lagravière on LinkedOut says that this Transat Jacques Vabre looks more like a huge coastal Grand Prix than a transoceanic marathon. "It looks more like a Solitaire du Figaro than a transatlantic race as we have a close battle with APIVIA and Charal which is particularly intense," he said.
"We've been running almost in sight for a few days. It generates intensity both in the way we lead the boat and in the way we refine our strategy … it also has an impact on the pace on board because the level of play is much higher. We give everything we can at all times.
Enright says their duel with Sébastien Simon and Yann Elies on ARKEA PAPREC was a lot of fun. "Yeah, yeah, those guys," he said on a satellite call from the ship, "we've seen a lot of it in the last three or four days and every time we go back (close of them), there is a good VHF Joke … it was a push-pull between us. "
This race allowed Enright and Bidégorry to put the brand new Malama to the test. The American co-skipper says he has managed to cope with various things that break or don't work, but the boat is now stable and running well, while his co-skippers are learning speed lessons all the time.
"We really entered the race without expectations and had a good exit from the English Channel and Ouessant," said Enright. "We're still learning the boat, the handling of the sails, the ergonomics, all that stuff – kind of we learn it on the fly. With performance we're just scratching the surface, so every new one condition is a new time to truly experience for us more than anything else. "
Back on LinkedOut, which turns out to be a powerful and competitive package despite smaller foils than Apivia, Lagravière summed up the weather position as "unconventional", while the Doldrums are looming, then the trip to at the mark of the turn to Fernando de Noronha. "It's not easy and it has been from the start," he said. "We often have good surprises, often a little more windy than in the lines. We get to get the most out of the boat, so it's fun. It is the same for everyone and the randomness remains controllable.
The Reunionese sailor has not disclosed anything about the Doldrums and the place where they plan to cross it. "The approach is different from other years," he summed up. "We'll really know the situation once we get through it. These are things that change until the last minute."
Enright thinks about what happened during the last Transat Jacques Vabre in 2019 when Beyou and Pratt sur Charal entered the Doldrums with a big lead and then came to a stop, allowing the pursuers to bypass them. "We saw Charal come in with a 200 mile lead and parked and it became pretty clear to everyone – don't go! – anywhere but there!" He said in laughing.
On Initiatives-Cœur, Briton Sam Davies and Frenchman Nico Lunven continue to impress in their old red and white IMOCA. They had to deal with not only the race but also a sartorial issue, as Davies revealed in his last message on board. Turns out Lunven forgot to pack T-shirts for the Tropics.
" Sat ? he said, "Davies reports," I forgot my t-shirt. For once I think, I took enough t-shirts and came up with a solution: I'm going to share them. Nico will be wearing size 10 women's clothes (or 12 if he's lucky) for the next eleven days. And he's going to do the laundry. "