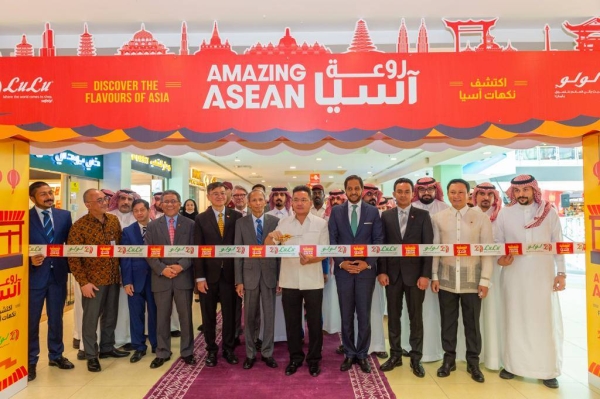 Best of ASEAN Countries at LuLu KSA 'Amazing ASEAN' Festival
RIYADH – The annual 'Amazing ASEAN' extravaganza of the best products from ASEAN countries kicked off today at two locations of LuLu Hypermarket in Saudi Arabia.
At Avenue Mall, Murabba, Riyadh, eight LuLu Group ambassadors and senior executives attended the inauguration. At the LuLu hypermarket in Amir Fawaz, Jeddah, three Jeddah-based ASEAN diplomats and senior LuLu Group executives were present.
The popular festival offers a wide range of daily necessities, groceries, exotic fruits and vegetables, frozen and chilled foods, fresh deli items as well as non-food and household items and furniture from the ASEAN region, known for its agricultural diversity. , seafood and non-food products of excellent quality.
More than 6,200 product lines from the Philippines, Thailand, Singapore, Vietnam, Indonesia, and Malaysia are ready to wow shoppers with their variety, exotic food appeal, and product sustainability. food.
Present at the inauguration of 'Amazing ASEAN' in Riyadh were diplomats from the eight ASEAN countries represented in the grand promotion: Dato Yusoff bin Ismail, Ambassador of Brunei Darussalam, HE Mr. Dang Xuan Dung, Ambassador of the Socialist Republic of Vietnam , Tin Yu, Ambassador of the Republic of the Union of Myanmar, Wong Chow Ming, Ambassador of the Republic of Singapore, Arief Hidayat, Deputy Head of Mission of the Republic of Indonesia, Amirulhusni bin Sahar, Chargé d'Affaires ai, Malaysian Embassy, Rommel Romato, Chargé d'Affaires ai, Embassy of the Republic of the Philippines and Sathana Kashemsanta Na Ayudhya, Chargé d'Affaires (Minister), Royal Thai Embassy.
They were welcomed by Shehim Muhammed, director of LuLu Group KSA and senior management of the hypermarket.
In Jeddah, the inauguration took place in the presence of Edgar Tomas Q. Auxlian, Consul General of the Republic of the Philippines in Jeddah, Eko Hartono, Consul General of Indonesia in Jeddah and Farah Syafina Bahiri, Consul of the Consulate of Malaysia in Jeddah who were warmly welcomed by senior management of LuLu in Jeddah.
The "Amazing ASEAN" festival will run until August 9 and offers great deals and promotions for shoppers.
"We are delighted to once again host the 'Amazing ASEAN' festival. Since last year's super success, our network of sourcing offices, logistics centers and stores across Malaysia and Indonesia has grown and we have an extensive network of product and item suppliers. food and non-food in the region," said Shehim Mohammed. , we take great pride in bringing together the variety of products we stock from the ASEAN region for buyers from the Kingdom of Saudi Arabia. We are sure that customers will appreciate the range of products, their exotic appeal, great taste and long-lasting quality of non-food items. »