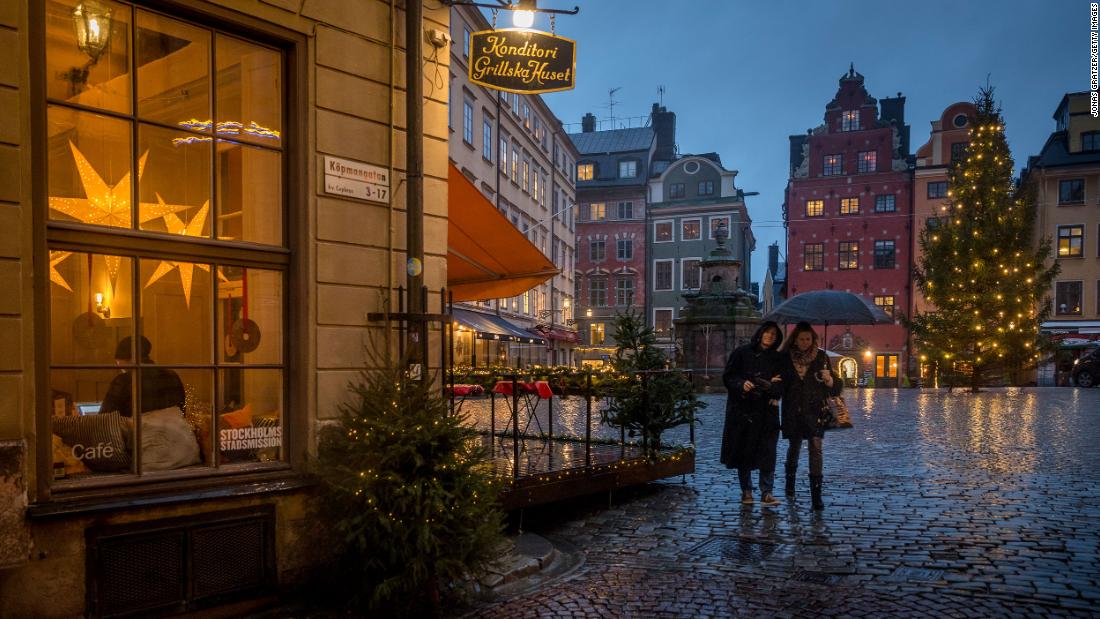 CDC places Sweden and 2 other European countries in highest travel risk category
(CNN) – The U.S. Centers for Disease Control and Prevention on Tuesday added three destinations in Europe – from its freezing northern climates to its sunny south – to its highest-risk travel category.
In its weekly Covid-19 travel advisories update, the CDC advised against travel to the following countries and placed them in its "Level 4: Very high Covid-19" category:
• Malta
• Moldova
• Sweden
The CDC places a destination at Level 4 when more than 500 cases per 100,000 population have been recorded in the past 28 days.
The island nation of Malta, a Mediterranean favorite, was also at Level 3 last week.
Far from the radar of most tourists, Moldova, a nation in Eastern Europe, previously appeared in the "Unknown" category. The CDC places destinations in this category when it does not have enough reliable data to make an assessment.
Europe's lingering woes
Another disturbing sign of the Covid-19 situation in Europe, the CDC has not moved any destination on this continent to a lower level over the past week.
Other big names in travel that remain hosted at CDC Level 4 include:
• France
• Germany
• Greece
• Ireland
• Italy
• Netherlands
• Portugal
• Spain
• UK
In fact, the UK has been at Level 4 since July 19.
However, Europe is not the only continent with popular tourist destinations at level 4. Other places also considered to be at 'very high' risk for travel include:
• Belize
• Jordan
• Singapore
• South Africa
• Turkey
In total, nearly 90 destinations were classified at level 4 as of December 28. You can view the CDC's risk levels for global destinations on its travel recommendations page.
Level 3 additions
A general view of Obelisco de Buenos Aires in Argentina's largest city.
Ricardo Ceppi / Getty Images
The level 3 category – which applies to destinations that have recorded between 100 and 500 cases per 100,000 population in the past 28 days – saw two additions on Tuesday:
• Argentina
• Brunei
Argentina, a travel favorite in South America that took a very cautious approach to admitting foreign visitors during most of the pandemic, was previously at Level 2.
The move was good news for the small Islamic Sultanate of Brunei, which was at Level 4.
Level 2, Level 1 and unknowns
Destinations with the designation "Level 2: Moderate Covid-19" have recorded 50 to 99 cases of Covid-19 per 100,000 inhabitants in the past 28 days. This level saw three additions on Tuesday:
• Cuba
• Gabonese
• Guatemala
Cuba, the largest island in the Caribbean, was at level 3. Gabon, on the Atlantic coast of Africa along the equator, and Guatemala, in Central America. had also been at level 3,
In the category of "Level 1: Covid-19 Low" destinations, less than 50 new cases per 100,000 inhabitants have been recorded during the last 28 days. There was only one addition – the island nation of Sao Tome and Principe off Gabon.
Finally, there are destinations, as mentioned above, for which the CDC has an "unknown" risk due to a lack of information. They are usually small, remote places. On Tuesday, the CDC added three places to this category:
• French Polynesia
• New Caledonia
• Suriname
The CDC is warning even fully vaccinated travelers to venture to destinations without reliable statistics on the current Covid-19 situation.
"Fully vaccinated travelers are less likely to contract and spread Covid-19. However, international travel poses additional risks, and even fully vaccinated travelers may be at increased risk of contracting and possibly spreading certain variants of Covid-19. "the agency said.
Another tumultuous week
All of these changes at the CDC level come against a whirlwind of pandemic news affecting global travel:
• Cruises: At least four ocean-going cruise ships were recently turned back from ports of call or were banned from letting passengers disembark in the Americas this week due to cases of Covid-19 on board. Find out more here.
• Flight: Thousands of flights were canceled over the Christmas holiday weekend in part because workers were calling in sick with cases of Covid-19. Find out more here.
• New Year's Eve: Big shindigs are being canceled or reduced worldwide. New York is having a small rally in Times Square, but London has canceled its big party altogether. Find out more here.
• Travel ban to lift: President Joe Biden issued a presidential proclamation on Tuesday, December 28, revoking a proclamation last month that placed travel restrictions on eight countries in southern Africa, including South Africa, as the Omicron variant began to spread . The proclamation repeals the ban as of 12:01 a.m. ET on December 31. To find out more, click here.