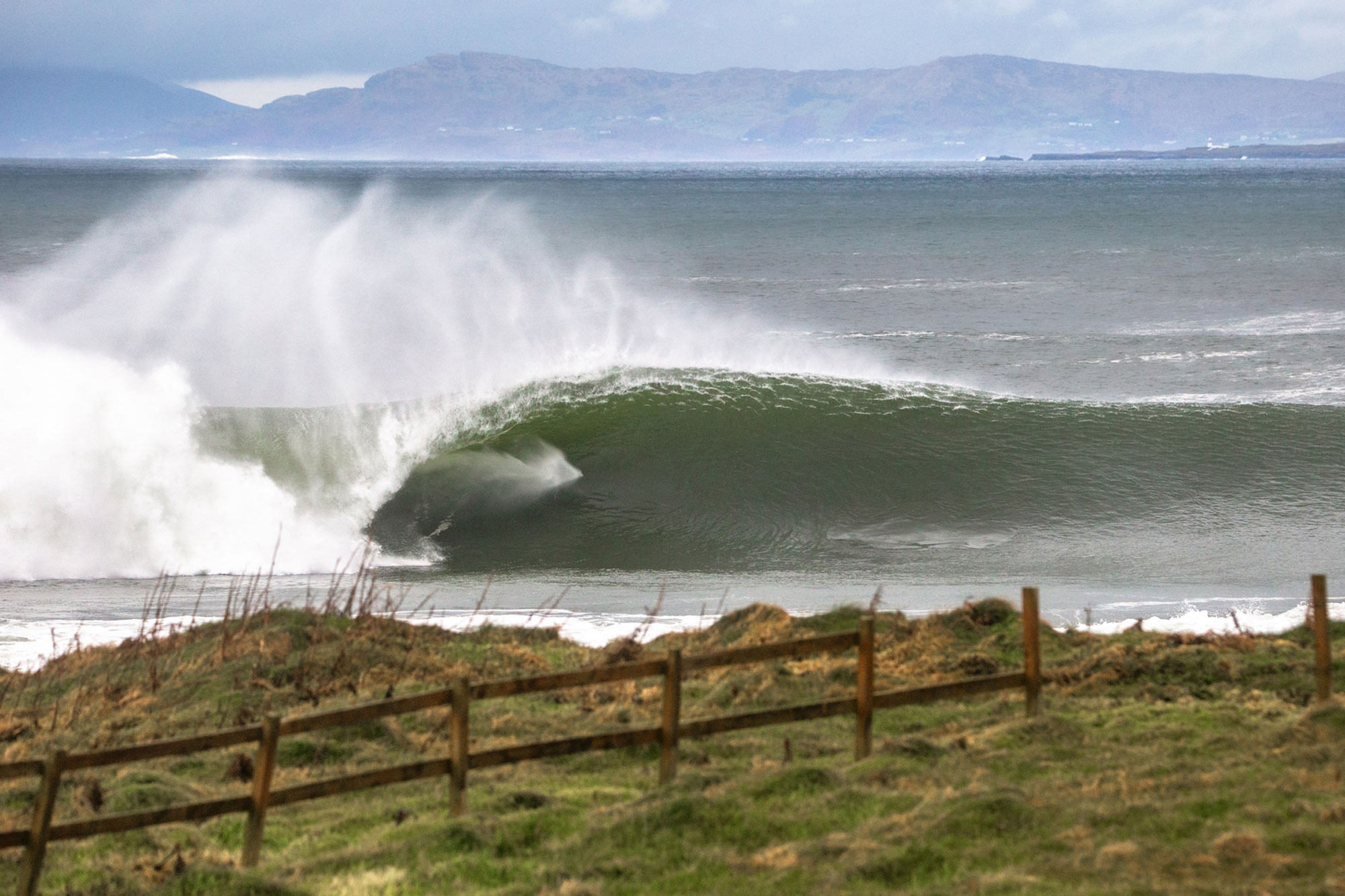 Gallery: Atlantic Overdrive – Surfline
We've spent much of the last week chronicling a crazy surf race in Europe. It was Atlantic Overdrive. (Live coverage here.) Now that the dust has settled a bit, as usual with these swell events, we've rounded up the best of the best to tie it all together with a visual arc. And to add a bit of context, we reached out to Surfline Forecast Director Kevin Wallis, who spent the entire time browsing weather charts and maps, buoys and wind models (so we didn't have to do it).
Here's Wallis' breakdown: If you were just about anywhere in the western North Atlantic last week, you probably scored. From giant Ireland to shooting nooks and crannies in the UK, to reefs and beachbreaks in France and Portugal, to tear-off points in North Africa. There was a little something for everyone. All of this happened earlier this month when we moved into the positive phase of the North Atlantic Oscillation. Storms began to line up with the northernmost latitudes of the basin, as high pressures drifted around the Azores, creating a series of waves lasting nearly two weeks.
View: Anglet Cam
These weren't your garden variety storms, either. Almost all of them dived below 980MB, with at least a couple in the 950MB or less range. In other words, strong. And one after another, which often allowed the next storm in the peloton to rely on the excited sea state of its predecessor (the preheated oven routine). The largest and most violent of the group of these storms recorded very impressive numbers, with hurricane force winds and seas validated by satellite or buoy in the 50 to 55 foot range on December 10 and 11. Validated seas of this magnitude are rare and this is expected to be one of the strongest storms we see in the North Atlantic this winter.
View: anchor point cam
The long-lasting swell from this storm hit Ireland and the UK on Sunday 12. Thanks to a separate low drifting up and west of Ireland, offshore southerly winds prevailed for the Emerald Isle. It was the biggest and sharpest swell since October 2020, when the storm formerly known as Hurricane Epsilon created even bigger surf and what is arguably the biggest wave ever to be ridden in Ireland.
The UK has also had good times. During the big swells on Sunday and Monday the blustery SW wind (from the same trough that created the S / SE wind in Ireland) meant the breaks were wide and bumpy, but the sheltered turns had a fantastic time. And as the week progressed, the high pressure spread northward from mainland Europe, creating light or offshore winds for much of the UK. It coincided nicely with the head held high in aerial surfing Wednesday through Friday from overlapping W swells.
Ireland, Game Day with Conor Maguire, December 12. (Stay tuned for the full edit of this awesome session.) Vid: Clem McInerney
View: Ribeira de Ilhas Cam
Heading south, Nazare was covered in fog ahead of Sunday's heavy swell, but things cleared up on Monday. And really, the conditions have been pretty epic since then. Sunny skies, a mild winter, and offshore seas all day with low high pressure welcomed the smaller – but still strong – tracking swells on Tuesday and Thursday and the entire coast has been on fire all week. If there was only one winner of Atlantic Overdrive, you'd be hard pressed to find a better contender than Portugal.
The last but, well, the least (in terms of size) was Morocco. It wasn't a particularly big wave of surfing in North Africa – and we didn't expect it – but several days of heads-up to perfect aerial point-break thanks to the overlapping swells were certainly enjoyable for the very. few who were there.
Happy Hour Morocco, December 13. Video: Amine Nadir
View: Mundaka Cam
Manu Lezcano, Canary Islands, December 14. Video: Manu Miguelez
Norway, December 13. Video: Mats Slaastad Birkelund