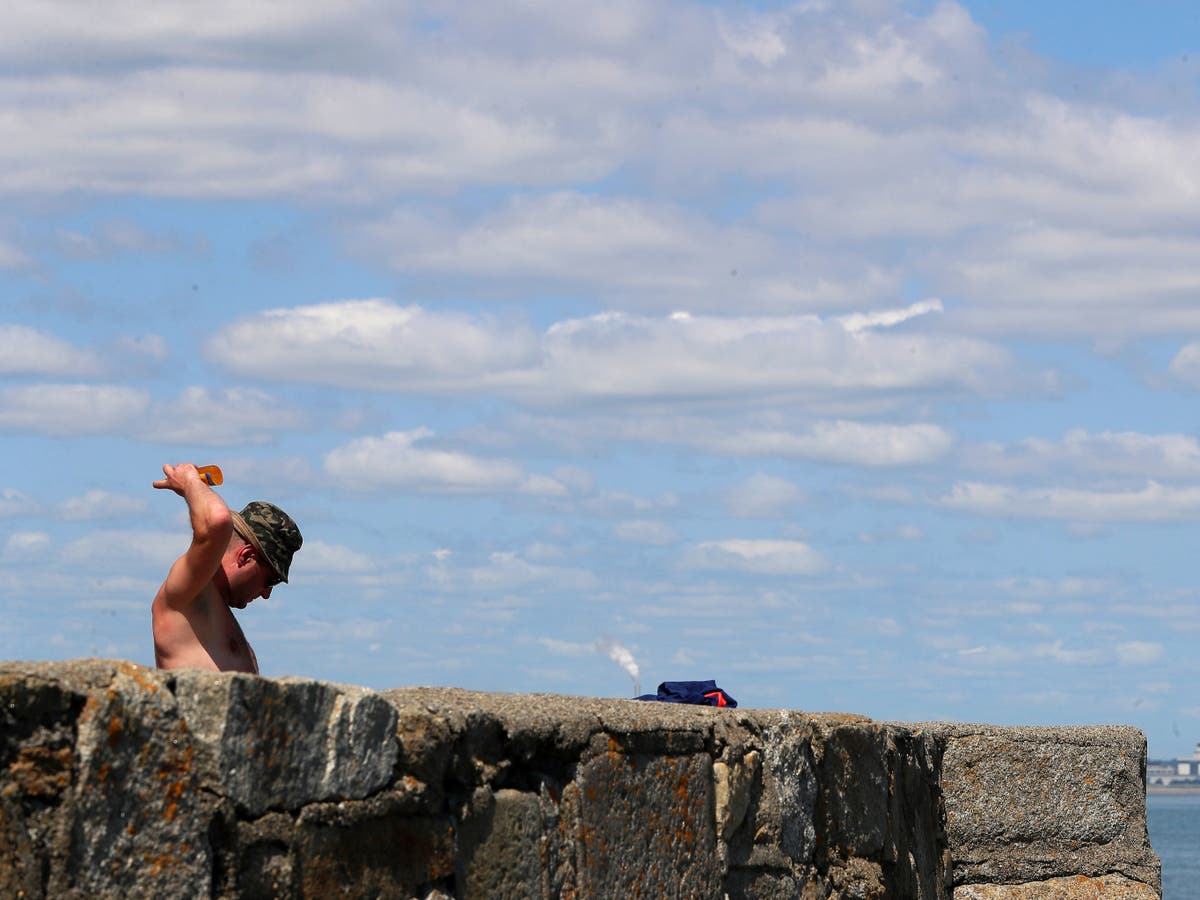 Hottest day of the year in UK as Northern Ireland records highest temperature on record
Today has been tentatively recorded as the hottest day of the year so far in all four of the UK's countries, with Northern Ireland reaching the highest temperature on record, the Met Office said.
Ballywatticock in County Down, Northern Ireland, reached 31.2 ° C, recorded around 3:40 p.m.
Previously, 30.8 ° C was the highest temperature recorded in Northern Ireland, reached on July 12, 1983 and June 30, 1976, the Met Office said.
The temperature at Linton-on-Ouse, North Yorkshire, England, was recorded at 30.7 ° C, although temperatures could rise further this afternoon.
Usk in Monmouthshire, Wales reached 29 ° C and 28.2 ° C was recorded at Threave, in the Dumfries and Galloway region of Scotland.
The heat wave will end the prolonged and severe rainy weather that caused flooding in parts of the country earlier this week.
Sunday is expected to be the hottest day of the year so far, due to an "Azores High", also known as the "Bermuda High".
This is when the UK is expected to be warmer than Crete, Turkey, Sicily, Gibraltar and parts of Spain and Portugal – according to a BBC forecast.
The mini-heatwave is expected to last at least until Monday – the day dubbed 'Freedom Day' – when the government is expected to lift the last of the Covid-19 restrictions.
Met Office meteorologist Andy Page said: 'The extension of the Azores High is the main reason for the UK's current weather pattern, which will see much of the UK reaching heatwave thresholds over the course of the UK. weekend and early next week.
"High temperatures will remain within the forecast until next week, but there is a risk of isolated heavy downpours across southern UK on Monday and Tuesday, although this should be broadly acceptable in most areas."
Met Office meteorologist Aidan McGivern said temperatures are expected to exceed 30C.
He added: "31C, 32C would not be out of the question".
Sunday would be "A hot day, the hottest day of the year so far, the hottest weekend of the year so far," McGivern added.
The very hot weather prompted warnings from Public Health England (PHE) to keep people cool.
UV rays are at their highest between 11 a.m. and 3 p.m., according to PHE guidelines, so those at risk of heat stroke should ensure they are in the shade or indoors between these hours.
Another tip is to wear a hat, apply sunscreen, and avoid physical exertion during the hottest times of the day.
A health alert has been issued in England with high temperatures expected to be "widespread across most of Britain" from the end of the week and throughout the weekend.
The alert, which covers England – excluding parts of the North East, North West and London – is due to last until Tuesday.
Additional reporting by the Press Association