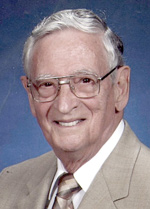 Humbert M. (Marc) Lopes – Hamilton County Journalist
July 6, 1925 – August 16, 2022
Humbert M. (Marc) Lopes, 97, Fishers, died August 16, 2022. He was born in Fall River, Mass., on July 6, 1925, the eldest son of the late Belmira Correia Lopes and Francisco Lopes.
Humbert was a man of integrity, honor, deep faith and respect for all. For many years, he gathered and kept close to him his family and many friends in his neighborhood, his church and his community. Humbert lived his life into his "super-senior" years with health, connectedness and vitality that inspires us all.
Still proud of his heritage, Humbert was first-generation American-born, raised with his grandmother, Victoria de Sousa Correia, a young widow who immigrated with her two daughters, including the youngest child who became his mother. , from the Azores Islands, Portugal , in the United States His grandmother cared for him while his parents worked in factories and construction in Fall River, Mass.
Humbert proudly served two tours in the Air Force/Air Force from August 1944 to November 1952, in both World War II and the Korean War. He enlisted in the Army Air Corp, earning a placement in air cadet training and was commissioned in 1944. He became one of the few "3-headed monsters", deployed as a radar operator , bomber and navigator, flying. B-29 with the 344th Bomber Squadron, 98th Bomber Wing. It flew over 50 bombing sorties over Japan and Korea. Humbert was honorably discharged from the Air Force as a first lieutenant in November 1952.
In 1950, Humbert used his GI Bill benefits to earn a BS degree in chemical engineering from Rensselaer Polytechnic Institute, Troy, NY Always an athlete, he also wrote in college football at Rensselaer. He went on to an illustrious career in product development and management at The Firestone Company. His managerial career has seen him open new factories and manage factory operations in the United States, Canada, Wales, United Kingdom, Greece and Brazil. Humbert was instrumental in the formulation and development of Firestone's highly successful rubber roofing product business. Finally, in 1978, he rose to the position of President of Firestone Industrial Products Company (FIPC), the diversified products division of The Firestone Company. He embodied the true American story of opportunity and achievement, from immigrant roots to senior executive of a Fortune 500 company in two generations.
Beyond his career success, the accomplishments Humbert is most proud of have always been raising and loving his family and giving back to his community. Humbert married his late wife, Helen Stinziano Lopes, in November 1952, returning to Somerset, Mass., near his family in Fall River, Mass., after his military service. There they raised two daughters, Patricia and Joanne. In 1967 a corporate promotion brought the family to live in Lindsay, Ontario, Canada, a great family adventure as they explored Canada for several years. Shortly after returning to the United States in 1972, the family moved to Carmel, where Humbert led the management operations of the nearby FIPC. Together they have spent many years discovering all that the Midwest has to offer. Following the terminal illness of his wife, Helen (who died April 1982), Humbert took early retirement to care for her and enjoy their brief time together. After his death, Humbert successfully consulted on operational efficiency and integration with many prior clients. Always dedicated to his faith, Humbert became a more active volunteer and participant in his church, Our Lady of Mount Carmel (OLMC) Roman Catholic Church, Carmel.
Life began anew when Humbert met and married Shirley Peetz Dupons in April 1986. Together they built another life, enjoying trips to Florida, the Caribbean and Europe during their retirement years. Both having a deep faith in God and in Jesus Christ, they were active both in OLMCs and in the East 91st Street Christian Church, attending both services every weekend, pursuing Bible studies and connecting with friends sharing their devotion to the faith. They found joy in visiting all of their children, spending time at the beach on the East Coast, and exploring new areas of Texas together. Humbert and Shirley entertained frequently and created a community of neighbors and friends.
In 1993, Humbert took on a new role: volunteering with Hamilton County Financial Management to assist and advocate for the elderly and disabled in managing their finances. Soon after, he grew this program from a fledgling group to a large team of active volunteers with a mission to keep the elderly and others in their homes. Ultimately, Humbert became chairman of the Hamilton County Financial Management Program, as well as chairman of the board and a member of the Indiana Governor's Council on Aging. After receiving the 2012 Golden Hoosier Award for his service, he said, "I help the elderly." He was 87 at the time; we said, "But you are the old ones." He didn't believe us, and we're glad he didn't.
Humbert is survived by his beloved wife of 36 years, Shirley Dupons Lopes; his two daughters, Patricia (Rick Lundregan) Earnest and Joanne (Rice) Powell; his sister, Carolyn (David Woodworth) Alves; his stepfamily son and daughter, Scott (Cynthia, Dec. Aug. 2022) Dupons and Heidi (Stephen) Stump; grandchildren, Morgan (Jennie) Earnest, Kelli Lundregan, Ryan Lundregan, Hannah Powell (Colby Hufnagle), Sophie Powell, Katie Stump (Devin Basile) and James (Chenoa) Stump; and great-grandson, Killian Stump.
Humbert is predeceased by his late wife, Helen Stinziano Lopes; mother and father, Belmira and Francisco Lopes; his brothers, Robert Lopes and Frank Lopes, Jr.; and son-in-law, David Dupons. He is also predeceased by his parents-in-law, Norma Stinziano, Margaret Rioux and Pasquale Stinziano, who loved him like a brother.
Visiting hours will be from 2-4 p.m. on Sunday, August 21, 2022 at the Randall & Roberts Fishers Mortuary, 12010 Allisonville Road, Fishers. Mass will be held at 11 a.m. on Monday, August 22, 2022 at Our Lady of Mount Carmel Catholic Church, 14598 Oak Ridge Road, Carmel, with the Reverend Dan Gartland officiating.
Future burial will be in Saint Patrick's Cemetery in Fall River, Mass.
In lieu of flowers, please make donations in Humbert's memory to the charity of your choice.
Condolences: randallroberts.com