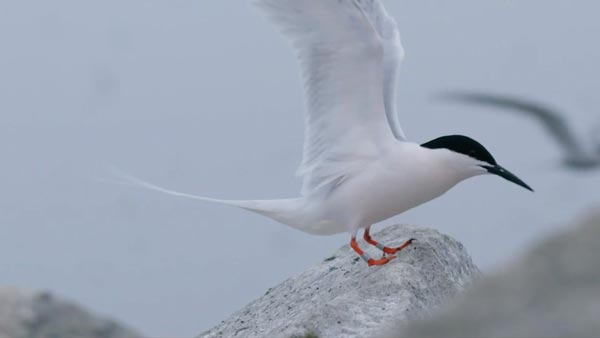 New Jersey International Film Festival's 2021 Best Program of award-winning films on Sunday, October 10
NEW | CHARACTERISTICS | OVERVIEW | EVENTS
By Al Nigrin
originally published: 10/09/2021
The 2021 Fall New Jersey Film Festival will feature two award-winning programs from last summer's New Jersey International Film Festival. The films will be available for 24 hours on Sunday, October 10 via video on demand. Here is the programming of program 1:
STOP – Marieli Froehlich (Vienna, Austria) We are all exposed almost continuously to countless unfiltered events, both near and far. Reflecting this kind of overwhelming situation, the idea of STOP has come. The project can be understood as a deceleration action, a call for slowing down from a state of sensory overload, a flow of stimuli, which consequently leads to a restriction of our original perception. Contemplation or meditation, an exercise that has had its place in all cultures, offers people the opportunity to experience oneness within themselves and furthermore leads to a feeling of oneness with their fellow human beings. With reference to this project, people of all walks of life, ages, religions and races all over the world have been and are invited to adopt a kind of meditative sleep state without preparation or artificial setting in their personal environment and to remain still. for a few minutes, allowing me to record them. During their brief pause, the world continues to turn and the grass is still growing. Participants turn to silence as they experience a gentle stillness that pervades them. The goal of this ongoing project is to bring together as many people as possible to participate in the experience. Experiencing the projection of a "whole world" of people in contemplation also creates a sense of oneness and inclusion for viewers. Division and prejudice, whether racial, religious, gender, class or political belief, are therefore eliminated at this time. 2020; 16 minutes Winner of the best experimental film!
Full Circle – Anne Via McCollough (Norfolk, Virginia) Full circle is a film that celebrates one woman's triumph in conservation: The Great Gull Island Project, Helen Hays' 50-year quest to save two endangered species of seabirds. During her long-term study, she dramatically increased the numbers of Roseate Terns and Common Terns nesting on a small uninhabited island in Long Island Strait. The film takes a close look at the terns' nesting season – arrival, courtship, hatching, feeding, flight – and highlights the myriad of volunteers encouraged and inspired by Hays over the decades; its extensive collaboration with scientists in Argentina, Brazil and the Azores; and also its remarkable and heartwarming connection with a small fishing village on the north coast of Brazil. Hays dedication has helped close an important circle, not only in conservation efforts, but also in connecting people around the world … people who were once strangers, are now friends and colleagues working together for a cause. common. 2021; 76 minutes Winner for best documentary film!
To buy tickets go here: https://watch.eventive.org/newjerseyfilmfestivalfall2021/play/60f594f2b6cdc50055bb81d5
---
Albert Gabriel Nigrin is an award-winning experimental multimedia artist whose work has been shown on five continents. He is also a Lecturer in Film Studies at Rutgers University and Executive Director / Curator of Rutgers Film Co-op / New Jersey Media Arts Center, Inc.
---
Advertise with New Jersey Stage for $ 50 to $ 100 per month, click here for more information
---
Advertise with New Jersey Stage for $ 50 to $ 100 per month, click here for more information
---