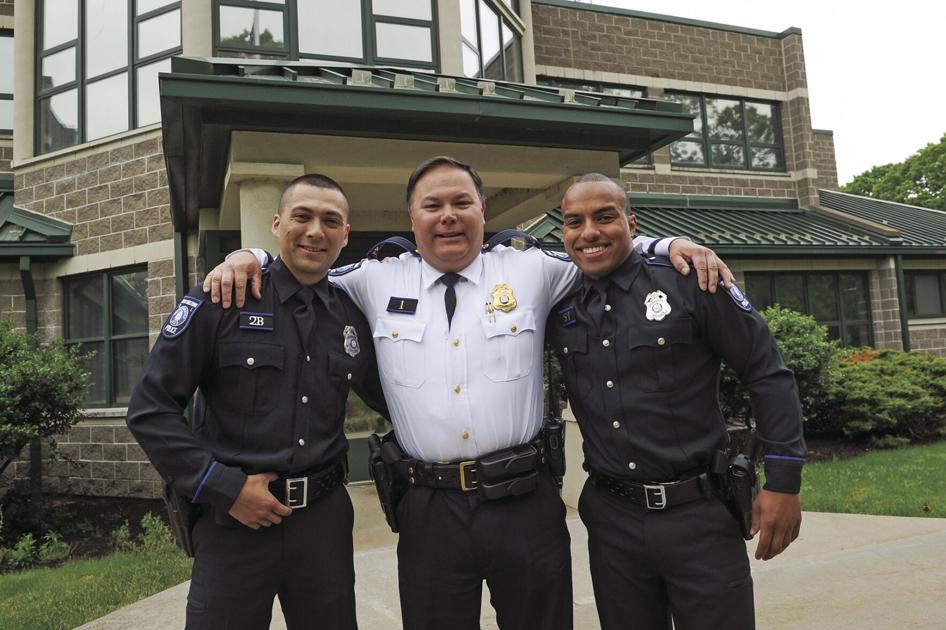 Serve a Purpose: Two New SKPD Officers Ready to Begin Careers They Were Intended for | New
SOUTH KINGSTOWN, RI – Two new police officers – fresh out of police academy – bring to the force an experience that no police training program can offer.
These two young officers about to start their careers in law enforcement and community policing say living in single-parent homes has instilled empathy for the many issues that can arise when law enforcement are called.
"It helps to see more ways of life. It gives you a better understanding of things that can happen when that is a factor, "Troy Pina, 22, said in a recent interview. Another new officer from this week, Justin Phannavong, 28, has agreed.
"I take it to be about being real," he said, noting that "real" means being understanding and empathetic when looking at a situation, not just a violation or an incident requiring intervention. police and maybe even a subpoena or arrest.
The two men who graduated a week ago from the Rhode Island Municipal Police Training Academy were among nearly 40 officers from 19 towns and villages across the state. They completed a basic training requirement there and these two are now starting field training in South Kingstown.
These new officers – Pina who is Cape Verdean and Phannavong who is Laotian – also represent the diversity desired by Chief Joel Ewing-Chow, who became the city's new head of law enforcement last November.
Last November, when he was officially appointed to the post, Ewing-Chow said he wanted the department to be more involved in the community.
"I want us to raise awareness, whether with disadvantaged groups, neighborhood groups, whoever they are. I think we can be a lot more proactive that way, rather than reactive, "he said at the time.
"What I want to do is break it down, say, 'We're here, we're ordinary people like you, we've got families, emotions. And we are in this position because we want to be civil servants, we want to help, "he said in an interview in November.
Understanding the community
These recruits will help him keep his promise. In an interview this week with The Independent, they discussed their commitment to community policing as well as their understanding of the cultural and other complex factors involved in policing.
In particular, the two officers said they understood the challenges of raising children in single-parent families because they were raised by their mothers. In South Kingstown, according to the 2020 Rhode Island Kids Count Factbook, approximately 20% of children in South Kingstown live in single-parent households.
Some community leaders say that number, based on the 2010 U.S. Census Population Survey, may be higher today.
The number of children growing up without a father at home in the United States has reached worrying levels, according to various studies, and has had an impact on children's development.
These problems have been found to extend into adolescence and adulthood. They can include an increased risk of substance use, depression, suicide, poor academic performance, and involvement in the criminal justice system in one way or another, according to a review of studies from Minnesota. Psychological Association.
"The more opportunities a child has to interact with his biological father, the less likely he is to commit a crime or have contact with the juvenile justice system," according to a report from the association.
Pina, from Seekonk, understands this result because of her experiences as a unified swim and track coach for children and teens. He sees the role of the police officer also as a mentor for young children and adolescents.
"You see a lot of people growing up who need help," said Pina, a member of the 2021 Cape Verde Olympic swim team who will compete this summer. He holds the citizenship of the United States and Cape Verde, the archipelago and the island country in the central Atlantic Ocean.
"Being a (mentor) shows how much you can change someone's role so early on. Some people don't have that, "he said. Pina said his mother, Maria, had raised him and his sisters, and that swimming coach Brian Cameron had inspired him as well.
Phannavong, from Woonsocket, said her childhood had been "a bit difficult" and her mother, Donna, and in particular her late grandmother and her father's mother, Bounthanh Manikhouth, were influential.
In Woonsocket High School, he ran from ninth to 12th grade and was captain of his team.
They also encouraged his self-taught approach to guitar and keyboard. In addition, they supported his decision to enter the Rhode Island National Guard in which he served in infantry training for six years.
His mother was a foster parent, he said, and he mentored the children who lived with them.
"It's important to put yourself in their shoes, to know what they're going through," said Phannavong, who has six-month-old son Jaxon with his wife, Alexandra. They live in Woonsocket.
Award-winning graduates
The Rhode Island Police Academy awarded four class awards to the recent promotion, noted Chief Ewing-Chow, and two of the awards went to interns from South Kingstown.
Phannavong received the Commander Raymond J. Shannon Leadership Award and Pina received the Officer Richard J. Jean-Georges Memorial Fitness Award.
For these young officers, however, the rewards are nice, but starting a job in a career they want is just as important.
"I feel like I'm supposed to be here. It's a friendly atmosphere. I saw it while driving around town, "Phannavong said.
The South Kingstown Police Department was the first agency Pina applied to.
"It's warm and welcoming," he said, noting encouragement from senior departmental officer Captain Mark Healy and training officer Mike Chappell.
Chappell said their background can bring a unique moment to a scene of confusion or difficulty when police are called.
"They come from non-nuclear families. It made them more empathetic, I think. When they arrive on the scene and someone says, "You don't understand", they may say, "I understand. I lived it. '