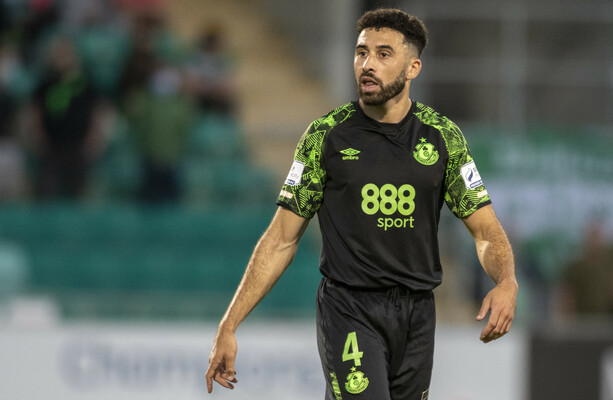 Shamrock Rovers' Roberto Lopes attracts interest from European clubs after AFCON performances
SHAMROCK ROVERS DEFENDER Roberto Lopes has attracted interest from European clubs in light of his performances for Cape Verde at the Africa Cup of Nations.
Lopes was man of the match in the 1-1 draw with hosts Cameroon in the group stage which earned Cape Verde a round of 16 with Sadio Mane and Senegal later in the day . [KO 4pm; Live on Sky Sports]
The Dublin-born defender has played every minute of the campaign so far for Cape Verde, who he qualifies for through his father.
His club manager, Stephen Bradley, has confirmed that Lopes' performances have attracted preliminary interest from clubs across the continent, although none have yet submitted a formal offer.
"There were a few teams who really liked him and if they call us that's a conversation we'll have to have with the club and with Pico," Bradley said.
"It's the stage he's on: he's performing and he's being recognized."
Cape Verde reached the quarter-finals in their first AFCON appearance in 2013, although that feat will be difficult today as Senegal are among the favorites to win the competition after surprise eliminations from Ghana, Algeria and Nigeria.
"When you follow Pico, obviously it makes him a lot more interesting," Bradley said. "It's great to see him play at this level against some of the stars in the world. He loves it, which is what you would expect and it's great to see him play because he deserves it. He works on it every day , which shows in his weekly performances and he shows it there.
"I think he just has to play his game, he can't get carried away with who he's up against and what he's up against. I think Pico does it very well, he's focused on what he can bring to the game. You can't affect what other people are going to bring to the game, how they're going to present themselves, you focus on yourself and he's good at it. I've spoken to him, he's calm and he appreciates that.